Moist Banana Coffee Cake with Cinnamon Pecan Topping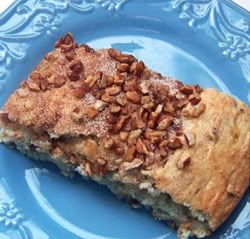 Moist banana flavored cake with a crunchy sugar and cinnamon topping. Need I say more?
Moist Banana Coffee Cake with Cinnamon Pecan Topping
Makes 15 servings
1 pkg. (8 oz.) cream cheese, softened
1/2 c. butter or margarine, softened
1-1/4 c. sugar
2 eggs
1 cup mashed ripe bananas (about 3 medium)
1 tsp. vanilla extract
2-1/4 cups AP flour
1-1/2 tsp. baking powder
1/2 tsp. baking soda
Topping
1 c. chopped pecans
2 T. sugar
1 tsp. ground cinnamon
1. Beat the cream cheese, butter and sugar in a medium mixing bowl. Add the eggs one at a time, beating well after each addition. Add the vanilla and bananas. Combine the flour, baking powder and baking soda; gradually add to the creamed mixture.
2. Combine topping ingredients; add half to the batter. Transfer o a greased 13″ x 9″ x 2″ baking pan. Sprinkle with the remaining topping. Bake at 350f degrees for 25-30 minutes or until a toothpick inserted in the center comes out clean. Cool on a wire rack.
Recipe from Allrecipes.com. Image from Divine Domesticity.